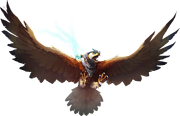 Welcome to The Falconeer Official Wiki!
We're a collaborative community website about The Falconeer, the open-world combat game from Tomas Sala and Wired Productions that anyone, including you, can build and expand. Wikis like this one depend on readers getting involved and adding content. Click the "ADD NEW PAGE" or "EDIT" button at the top of any page to get started!

What is The Falconeer?
An attempted assassination leaves the reigning Empress near death. As the seachantress heals her body she lets the empress experience the memories of Falconeers whose actions led to her downfall. Uncover the treasons and machinations that threaten the Ursee... And try not to die.
The Falconeer is ocean world RPG in which you take to the skies on top of a giant bird of prey, set in a vast aquatic world with four distinct factions vying for supremacy.
The game is helmed by Tomas Sala, of Moonpath to Elsweyr fame, featuring his unique visual style perfected in previous work.
Read more...

The World

The Great Ursee

The Falconeer's Guidebook

Falconeers

Warbirds

Combat
Airships, manta rays, weaver dragons, razor beetles, surface vessels